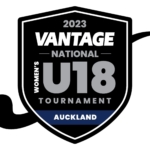 Welcome to the 2023 Vantage National U18's Women Tournament at Auckland Hockey Stadium, Lloyd Elsmore Park, Pakuranga.
We are thrilled to be hosting 20 teams and their supporters from across the country, including our very own Auckland White and Auckland Blue teams. Teams will be competing for the Amanda Hooper Memorial Trophy, including 2022 defending champions Canterbury.
We look forward to welcoming you into our stadium and are particularly excited to be hosting tournament games on our brand new Paris 2024 Carbon Neutral Olympic Turf from Polytan, one of just two in the world.
Monday 3rd July Fixtures
Sunday 2nd July Results
Key Links
Hockey NZ Altius: For up to date fixtures, results and statistics.
Squad Lists, Umpires & Officials
Click here for further event and venue information
Thank you to our generous funding partner Trillian Trust