Women's Summer Masters
Monday Nights

October 31st – February 20th (new start and finish date)
NO PLAY 19 & 26 Dec 2022, 2 & 9 Jan 2023
NO PLAY Public Holidays – Labour Day, Auckland Anniversary Day or Waitangi Day
11 weeks $1903 p/team (GST inclusive)
Men's Summer Masters
Tuesday Nights

October 25th – February 21st
NO PLAY  20 & 27 Dec 2022, 3 & 10 Jan 2023
14 weeks $2422 p/team (GST inclusive)
To register your team CLICK HERE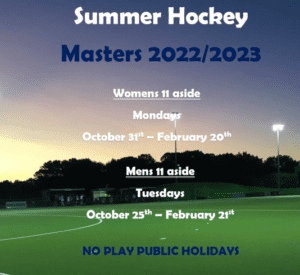 FAQ's
How old do players need to be? Players must be aged 30 years of age as of the start date of the competition.
Can I have any underage players? As with previous Master's seasons, each team may have up to 2 players under the age of 30 who have been registered in Division 2 or lower during the 2022 Winter season.
Where will games be played? Games will be spread across Auckland venues, Lloyd Elsmore Park, Kolmar and Avondale. Kolmar and Lloyd Elsmore Turf 1 will be unavailable at various points this summer due to turf renewals. If team entries dictate then other turfs may be used.
What time are games? 6:45pm and 8pm, the same as previous seasons.