We're almost at the half way point in the season, with Queen's Birthday Weekend providing a break in competition for all Senior Grades this weekend. Read below for a summary of some of last weekend's results and current standings across our Senior Grades from Premier Reserve to Division 4.
Premier Reserve Men table toppers Southern Districts defeated 3rd place Somerville 3-1 to stay undefeated at the top of the table. University in 2nd place, are 3 points behind after their bye, meanwhile Western got their first points of the season with a close fought 4-3 victory over Howick Pakuranga.

Premier Reserve Women saw a top of the table clash between Southern and Somerville at AGS, which was battled out to a 3 – 3 draw. Roskill Eden claimed a 3-1 win against Masters Women to top the table by Goal Difference over Southern, with Somerville dropping to 3rd just 2 points back.

Division 1 Men saw Southern A, Somerville A and University each score 7 goals consolidating all 3 teams equal at the top of the table on 19 points from 8 matches, with Howick Pakuranga also netting 7 goals to sit in 4th place just 2 points behind the Top 3.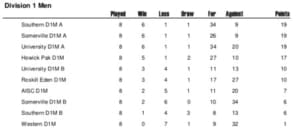 Division 1 Women has seen Howick Pakuranga retain their place at the top of the ladder with a 2-1 win over 4th placed Western. Masters Blue are hot on their heels, 1 point adrift in 2nd place after a 5-0 win over Somerville A, with Roskill Eden in 3rd on 15 points following their 1-1 draw with Southern.
Division 2 Men sees Southern remain top of the table undefeated after 8 games on 24 points following their 4-2 win vs Roskill Eden. Howick Pakuranga B and Somerville both follow on 19 points following HPHC B's 9-0 win over Grammar Windsor and Somerville defeating AISC 6-2.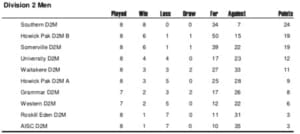 Division 2 Women saw 3rd placed Roskill Eden edge past Southern 3-2 in a battle that sees SDHC slip to 4th place on 16 points, Roskill Eden stay in 3rd on 17 points equal with Somerville who leaped into 2nd place on goal difference after a big 10-0 win over Grammar Windsor. Howick Pakuranga A remain in 1st on 19 points after defeating Western 3-0.
Division 3 Men saw Somerville move into 3rd after winning 5-3 against Grammar Windsor who are in 4th place. Howick Pakuranga A have 8 wins from 8 matches and sit at the top of the table on 24 points after an 8-0 win over Western, closely followed by Mt Eden and Somerville each on 18 points.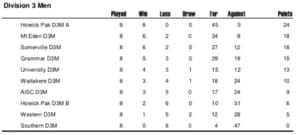 Division 3 Women saw AISC build on their lead at the top of the table with a 2-0 win over 4th placed Somerville. Howick Pakuranga romped home 9-0 over Western Districts and University defeated Waitakere 5-0 to sit in 2nd and 3rd place respectively on 19 points each, 5 points behind AISC.
Division 4 Men remains a closely fought league with 2nd placed Grammar Windsor defeating now 4th placed Howick Pakuranga B by 1 goal 4-3. Howick Pakuranga A remain undefeated in 1st after a 6-0 win over Waitakere taking them to 16 points, 1 ahead of Grammar Windsor, with Somerville climbing into 3rd on 12 points following their 4-0 win over Western.