Welcome to the 2023 Chica Gilmer Trophy and Mayhill Cup tournaments at Auckland Hockey Stadium, Lloyd Elsmore Park,Pakuranga.
We are thrilled to be hosting 19 teams and their supporters from across the country during the 2023 Secondary School tournament week.
We look forward to welcoming you into our stadium and are particularly excited to be hosting tournament games on our brand new Paris 2024 Carbon Neutral Olympic Turf from Polytan, one of just two in the world.
Auckland Hockey Stadium
At the stadium during tournament week:
Cafe/Bar will be open during all games serving Roma Coffee, food and beverages. Eftpos only.
First Aid onsite – Pro Med located on the ground floor concourse. Ice packs in a small freezer will be located here too.
No Dogs, Smoking/Vaping or Alcohol to be brought onsite.
Tournament Director and Officials/Tournament Control will be upstairs in the Upstairs Conference Room.
There is plenty of free car parking outside the stadium and surrounding park areas.
Local bus information can be found at AT www.at.govt.nz/bus-train-ferry/timetables
Draw
Key Links
Chica Gilmer – Hockey NZ Altius: For up to date fixtures, results and statistics .
Mayhill Cup – Hockey NZ Altius:
Local Attractions
Lloyd Elsmore Park Swimming Pool & Leisure Centre (2 min walk from Auckland Hockey Stadium)
Howick Village for shopping, cafes, restaurants, art & entertainment (5 – 10 mins by car from Auckland Hockey Stadium)
Half Moon Bay Marina for shopping, cafes, restaurants and Ferry service into Auckland City (5 – 10 mins by car from Auckland Hockey Stadium)
Botany Town Centre over 200 retail stores and restaurants (5 – 10 mins by car from Auckland Hockey Stadium)
Howick Historical Village (directly opposite Auckland Hockey Stadium)
Rainbows End (18 – 25 mins by car from Auckland Hockey Stadium)
Local Medical Services 
260 Botany Road, Golflands
Open 7 am – 11 pm, 7 days a week
A&E walk-in for accident and medical services
7 – 15 mins from Auckland Hockey Stadium by car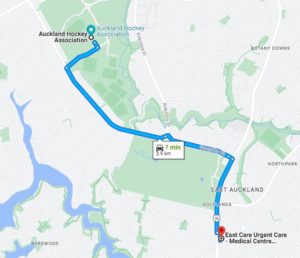 Open 8am – 6pm, Monday – Friday
Walk-in Clinic for accidents, injuries or suddenly feeling unwell from
10 – 20 mins from Auckland Hockey Stadium by car
Local Physio's